Product Description
A beam coupling, also known as helical coupling, is a flexible coupling for transmitting torque between 2 shafts while allowing for angular misalignment, parallel offset and even axial motion, of 1 shaft relative to the other. This design utilizes a single piece of material and becomes flexible by removal of material along a spiral path resulting in a curved flexible beam of helical shape. Since it is made from a single piece of material, the Beam Style coupling does not exhibit thebacklash found in some multi-piece couplings. Another advantage of being an all machined coupling is the possibility to incorporate features into the final product while still keep the single piece integrity.
Changes to the lead of the helical beam provide changes to misalignment capabilities as well as other performance characteristics such as torque capacity and torsional stiffness. It is even possible to have multiple starts within the same helix.
 The material used to manufacture the beam coupling also affects its performance and suitability for specific applications such as food, medical and aerospace. Materials are typically aluminum alloy and stainless steel, but they can also be made in acetal, maraging steel and titanium. The most common applications are attaching encoders to shafts and motion control for robotics.
Please contact us to learn more.
 
Type
Description
Bore(mm)
BR
D18L25
4~6.35
D20L25
4~8
D25L30
5~12
D32L40
8~16
DR
D12L19
3~6
D16L24
3~6.35
D18L25
3~10
D25L30
5~14
BE
D16L23
3~6
D18L25
3~6.35
D20L26
4~8
D25L31
5~12
D32L41
6~16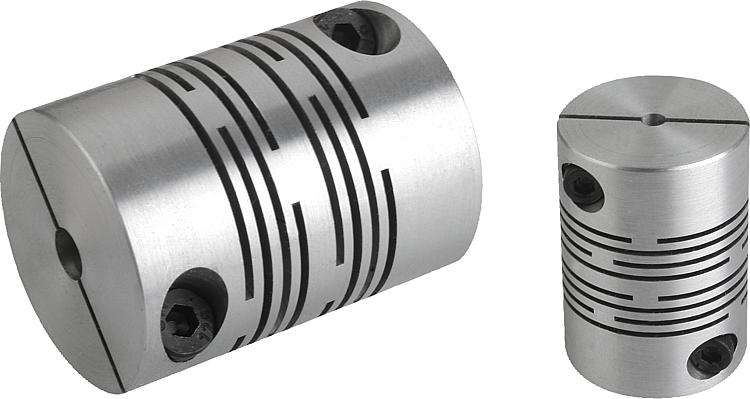 Comparison of Beam Couplings to Other Coupling Types in Terms of Backlash and Torsional Stiffness
When considering coupling options for motion control systems, two critical performance characteristics to evaluate are backlash and torsional stiffness. Backlash refers to the amount of rotational play or free movement between the connected shafts, while torsional stiffness indicates a coupling's ability to resist torsional deformation when transmitting torque. Let's compare beam couplings to other common coupling types in terms of these factors:
Beam Couplings:

Beam couplings generally exhibit low to minimal backlash due to their single or multiple helical beam design. The helical beams provide some flexibility to accommodate misalignment, but they maintain a relatively tight connection between the shafts, resulting in low backlash. This characteristic is especially valuable in precision motion control applications where eliminating play is essential for accurate positioning.

In terms of torsional stiffness, beam couplings offer moderate to high values. The helical beams provide good torsional rigidity, making them suitable for applications that demand precise torque transmission and minimal torsional deflection. However, compared to other types like disc or jaw couplings, beam couplings may have slightly lower torsional stiffness.

Disc Couplings:

Disc couplings are known for their excellent torsional stiffness, providing robust torque transmission and minimal torsional deformation. They are ideal for applications requiring high precision and where torsional rigidity is critical.

Regarding backlash, disc couplings typically have low to negligible values. Their design allows for precise and direct transmission of torque between the shafts, resulting in minimal rotational play.

Jaw Couplings:

Jaw couplings offer low to moderate torsional stiffness, making them suitable for applications with moderate torque requirements. They provide some flexibility to handle misalignment, but their torsional rigidity is not as high as disc couplings or certain types of beam couplings.

Backlash in jaw couplings can vary depending on the specific design and materials. Some jaw couplings may have slightly more backlash compared to beam or disc couplings due to the elastomeric spider element used in their construction.

Oldham Couplings:

Oldham couplings offer low backlash performance due to their unique three-piece design, which incorporates two outer hubs and a middle disk. The design allows for consistent torque transmission and minimal play between the shafts.

Torsional stiffness in Oldham couplings is moderate, providing a balance between flexibility and rigidity. While not as rigid as disc couplings, they still offer reliable torque transmission for various motion control applications.
In summary, beam couplings offer low to minimal backlash and moderate to high torsional stiffness, making them suitable for precision motion control applications that require a balance between flexibility and rigidity. Disc couplings provide excellent torsional stiffness and low backlash, making them an ideal choice for high-precision applications. Jaw couplings and Oldham couplings offer moderate performance in both backlash and torsional stiffness and are well-suited for applications with moderate torque and misalignment compensation requirements.
When selecting a coupling type, consider the specific needs of your application, such as the required precision, torque capacity, and misalignment compensation. Each coupling type has its advantages and limitations, and choosing the right one will contribute to the overall performance and reliability of your motion control system.
Beam Couplings for Specific Industries and Specialized Applications
Yes, there are beam couplings specifically designed to meet the unique requirements of various industries and specialized applications. Manufacturers offer a wide range of beam coupling options with different materials, designs, and features tailored to specific use cases. Here are some examples of beam couplings designed for specific industries and applications:
Food and Beverage Industry:

Beam couplings used in the food and beverage industry are typically made from stainless steel or food-grade materials to meet strict hygiene standards. These couplings are resistant to corrosion, easy to clean, and comply with FDA and USDA regulations. They are commonly found in conveyor systems, packaging equipment, and food processing machinery.

Medical and Pharmaceutical Industry:

Beam couplings used in medical and pharmaceutical applications are designed to meet stringent cleanliness and precision requirements. They are often made from materials like stainless steel or plastic, ensuring biocompatibility and resistance to sterilization processes. These couplings are used in medical robots, imaging equipment, and precision medical devices.

Aerospace and Defense Industry:

Beam couplings for aerospace and defense applications must withstand extreme environments, high accelerations, and vibrations. They are commonly made from lightweight yet strong materials like aluminum or high-performance alloys. These couplings are used in aircraft control systems, satellite components, and defense equipment.

Robotics:

Beam couplings used in robotics require high torsional stiffness and low inertia to optimize robotic performance. They are often made from materials like aluminum or carbon fiber. These couplings are used in robotic joints and end-effectors to achieve precise and rapid motion.

Automotive Industry:

Beam couplings in the automotive industry need to handle high torque loads and provide reliable power transmission. They are commonly made from steel or aluminum to balance strength and weight. These couplings are used in automotive steering systems, transmissions, and engine components.

Renewable Energy:

Beam couplings used in renewable energy applications, such as wind turbines and solar tracking systems, are designed to withstand harsh environmental conditions and provide precise motion control. They are often made from materials with good corrosion resistance. These couplings help optimize energy production and enhance system efficiency.
Additionally, there are beam couplings designed for specialized applications, such as vacuum environments, cleanrooms, or underwater operations. These couplings have specific features to address the challenges of their respective applications, ensuring reliable performance in their intended environments.
Manufacturers of beam couplings offer a wide selection of standard and custom designs to cater to the diverse needs of different industries and specialized applications. When choosing a beam coupling, it's essential to consider the specific requirements of the application to ensure optimal performance and longevity.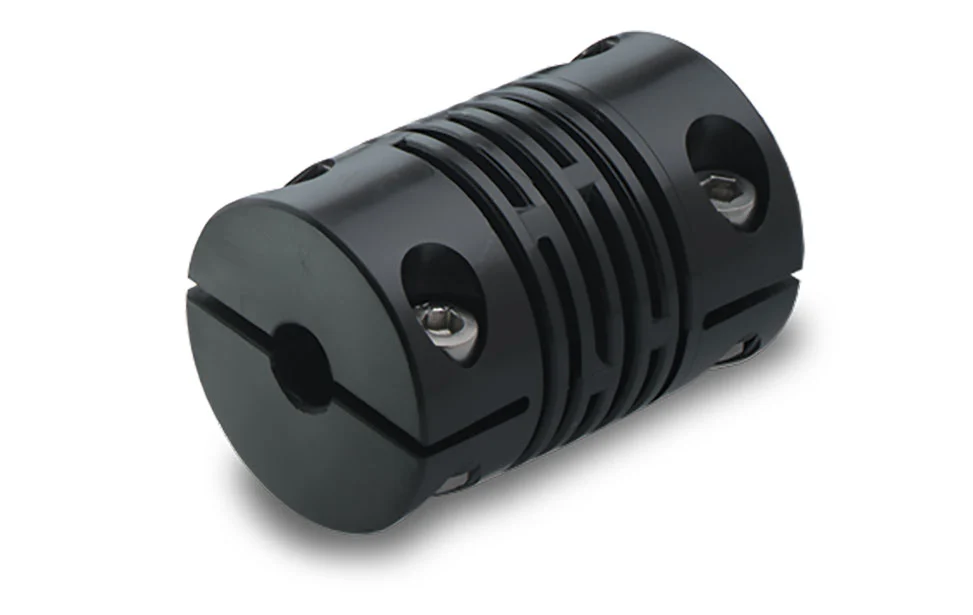 Selecting the Appropriate Beam Coupling for Your Motion Control Needs
Choosing the right beam coupling for your specific motion control needs involves considering several factors to ensure optimal performance and reliability. Here's a step-by-step guide to help you make an informed decision:
Identify Application Requirements:

Start by understanding the specific requirements of your motion control application. Consider factors such as the type and amount of misalignment, torque capacity, shaft sizes, operating environment, speed, and precision requirements.

Types of Beam Couplings:

Familiarize yourself with the different types of beam couplings available, such as single-beam, multi-beam, bellows, servo disc, slit, step beam, and jaw couplings with beam elements. Each type has unique characteristics that cater to different motion control needs.

Misalignment Compensation:

Assess the level of misalignment in your application. If you require compensation for angular, axial, and parallel misalignment, multi-beam or bellows couplings might be suitable. For primarily angular misalignment, a single-beam coupling could be sufficient.

Torsional Rigidity:

Consider the required torsional rigidity for precise motion control. Servo disc couplings offer high torsional rigidity and low backlash, making them ideal for precision applications, while slit couplings provide more torsional flexibility and vibration dampening.

Environmental Factors:

Take into account the operating environment, including temperature, humidity, and exposure to chemicals. Choose a beam coupling with materials that can withstand the environmental conditions of your application.

Speed and Torque Capacity:

Evaluate the speed and torque requirements of your motion control system. Ensure that the selected coupling can handle the specified torque while maintaining the desired speed without compromising performance.

Space Constraints:

If your application has limited space, consider compact designs like single-beam or slit couplings. These types can efficiently fit into tight spaces while providing the necessary misalignment compensation.

Backlash and Precision:

For applications that demand minimal backlash and high precision, servo disc couplings are a suitable choice due to their exceptional torsional rigidity and accurate torque transmission.

Vibration Dampening:

If your system requires vibration dampening to protect sensitive components or improve overall performance, consider beam couplings with features like slits or bellows.

Customization Options:

Check if the coupling supplier offers customization options. Some manufacturers can tailor the beam coupling to meet specific application requirements, providing an optimal solution for your motion control needs.

Consult with Experts:

If you are uncertain about the best beam coupling choice for your application, consult with motion control experts or the coupling manufacturer's technical support team. They can offer valuable insights and recommendations based on your specific needs.
By carefully evaluating these factors and considering the advantages and limitations of each beam coupling type, you can select the most appropriate coupling for your motion control needs. Making the right choice will contribute to the efficiency, reliability, and longevity of your motion control system.



editor by CX 2023-11-09